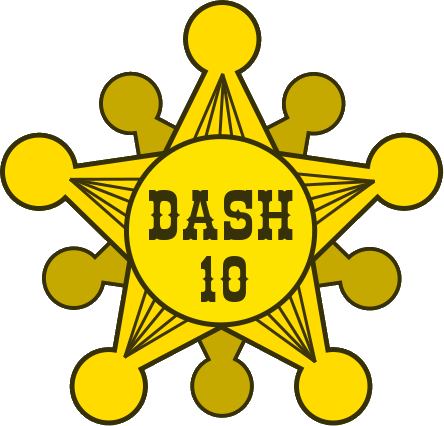 DASH 10
Deputies Allied to Secure Homesteads
Your team of deputies is charged with keeping the peace in Tenderfoot Falls, a bustling small town in the Old West. The sheriff is away on sudden and mysterious business, there's a stranger in town up to no good, and a robbery brings a long-ago secret to light. Can you work through a series of puzzles to bring the robbers to justice, solve the mystery, and restore order?
---
DASH 10 took place on September 22, 2018.
Here are the results for Standard and Expert levels.
Puzzles
DASH 10 puzzles are available for download, sized for either letter or A4 paper. Each zip contains the DASH 10 puzzles in both Standard and Expert levels, as well as an Instructions PDF with details on printing and materials.
DASH is designed to be played by a team of 3-5 people. You'll find it handy to have scissors and tape for DASH 10.
We recommend using ClueKeeper to complete your DASH 10 experience. Some of the story is revealed via ClueKeeper as puzzles are solved, and it is helpful for confirming partial solutions and providing hints. For a small fee, you can purchase a version of the DASH 10 ClueKeeper hunt specifically designed for use with the files above. Purchase the Standard or Expert hunt based on which level you wish to play. (See the DASH FAQ page for guidance on choosing a level.) Note that the ClueKeeper purchase is for an entire team, not a per-person cost.
DASH 10 used a few physical items, described below. We have a few sets of physical items that are available while supplies last. Price is $20, including shipping to a US address. (International shipping is expensive, making that impractical in most cases.) Contact dash10 if you would like to order items.
Coins. For the play-at-home version, the coins are shown on one of the puzzle pages.
If you are using the physical coins, you will find it useful to know about a minor production issue.
Deck of cards. You can order a deck of cards from Drive Thru Cards.
If you do not have the cards, you will not be able to solve a small portion of one puzzle, but there is a resource that provides the information necessary to complete that puzzle. When you are at the point where you need the deck, visit the Deck Info page to get details. (The information here is intentionally vague in order to avoid spoilers!)
Credits
DASH 10 Director – Cathy Saxton
Puzzle Manager – Cathy Saxton
Story Author – Tom Saxton
Events Manager – Mark Larson
Artwork – Melanie Schultz
Social Media – Yen Duong
Puzzle 1 – Tom Saxton
Puzzle 2 – Jonah Ostroff
Puzzle 3 – Dann Webster, Justin Melvin
Puzzle 4 – Sean Gugler
Puzzle 5 – Wil Zambole
Puzzle 6 – Jonah Ostroff
Puzzle 7 – Bryan Clair
Puzzle 8 – Jason Florek
Puzzle 9 – Freya, Rob & Weaver
Puzzle 10 – Steven Clontz
Puzzle 11 – Jon Napolitano
Amsterdam, NLD

Lead: Bethany Startin
Volunteers: Lindsay van Clief, Ying Feng, Weaver, Daniel Turner

Atlanta, GA

Lead: M. Sean Molley

Austin, TX

Lead: Brian Brannan

Boston, MA

Lead: Rahul Sridhar
Volunteers: Brian Shimanuki, Katie Dunn, Josh Alman, Andrew He, Aaron Lin, Alan Huang, Brian Chen, Chris Donovan, Joanna Sands, Margaret Sands, Charles Tam, Gina Yuan, Sophie Mori, Yannick Yao

Chicago, IL

Leads: James Nelson, Anna McCleary, Wil Zambole, Craig Booth

Davis, CA

Lead: Paul Rundle
Volunteers: Daniel Rundle, Marie Rundle, John Rundle, Alex Hannon, Charles Graves, Sara Stafford, Chris Stafford, Victor

Enschede, NLD

Leads: Jeroen, Joris, Kim, Ronald, Steven, Tim
Volunteers: Bar Update, Los Ponchos

London, GBR

Lead: Michael Colao
Volunteers: Morag McBride, Pippa Colao, Jon Cloutman-Green, Dream Cloutman-Green, Clive Room, Gareth Adams, Kip Heath

Los Angeles, CA

Leads: Cheryl Gaul, Jean Gaul

Melbourne, AUS

Leads: Maree, Kristen, Julie
Volunteers: John, Steph, Katelyn

Minneapolis, MN

Lead: Mark Larson
Volunteers: Charles Borchert, Marc Gutman, Evan Hall

Mobile, AL

Lead: Steven Clontz

Montréal, CAN

Leads: Henry Smith, Suzanne Tee
Volunteers: Diana Cortijo, Leslie Martin, Michael Cutting, Susan Edey

New York, NY

Lead: Kevin Lee
Volunteers: Matt Selsky, Lydia Chen, Chris Horng, Dean Shu, Shimin Ooi, Wesan Chang, London Thomson-Thurm, Christine Kim, Marco Gentili, Erin Mui, Alice Huh

Nicosia, CYP

Lead: Christos Makrides
Volunteer: CS Club UCY

Palo Alto, CA

Lead: Alec Brickner
Volunteers: CJ Brickhouse, Felipe Chen, Sean Gugler, Emily Jiang, Tracey Lin, Justin Selig

Pittsburgh, PA

Lead: E. Forney
Volunteers: Alex Falk, Zora Gilbert, Ethan Gladding, Matthew Glisson, Eli Goodfriend, Dillon Lareau, Maija Mednieks, Alex Nowalk, Xander Orenstein

Portland, OR

Leads: Robert Erickson, Bill Moore
Volunteers: Ana Roeszler, Kate Petak, Josh Marsh, Amy Jo Marsh

San Diego, CA

Leads: Terrence Murphy, Rebecca McGinley

San Francisco, CA

Leads: Rebecca Auld, Orion Auld, Nicole Hanusek, Kirk Tarou, Gr8er Good Games
Volunteers: Rocks Den, Double Shot Coffee, Mikhail Garvey, Casey Holman, Linda Holman, Andy Poon, Nathan Shelly, Lily Zhang

Seattle, WA

Lead: Glenn Hollingsworth
Volunteers: Barbara Joyce, Cassie Wong, Cathy Saxton, Courtney O'Gorman, Darren Stahl, Dollar Narula, Evan Cahill, George Johnston, Herman Chau, Ilia Denotkine, Jonah Ostroff, Kyle Robinson, Taylor Garren, Tom Saxton

St. Louis, MO

Lead: Julie Buchheit
Volunteers: Russell Morrissey, Bryan Clair, Joseph Buchheit, Donna Buchheit, Emily Morrissey, Lindsay Cranmer, Joel Stillwell, Kevin Bizub, Donna Morrissey

Washington, DC

Lead: Steve Gaddy
Volunteers: Navid Chowdhury, Jason Florek, Julie Gaddy, Casey Robinson, Rose Robinson, Lucy Stainer, Betsy Wang
Products and Services
Amazon Web Services
Bitly
Cardenio Modern font
ClueKeeper
Doodle
DriveThruCards
FedEx Office Printing Services
FreeConferenceCall.com
Google
Inkscape
LaTeX • MiKTeX • TikZ
PokerChipLounge.com
Printful
Rio Oro font
Scribus
Trello
WooCommerce
Wordpress